---
FOR THE PARENTS: I'm always receiving emails from people asking about butterfly gardens for kids to grow, or how they can raise their caterpillars. I think it's a great idea for the kids to grow their own garden! This is better than any science class in school - they learn and experience it for themselves. The most important thing for us, as parents, to remember is HANDS OFF! It's a kids garden, let them pick out the flowers, plan the layout, and plant the stuff themselves.Butterflies don't care that orange flowers don't match red ones, or that the tall ones go in back short in front. Also, the butterflies LIKE the weedy/grassy areas. There isn't any such thing as a 'formal' butterfly garden. I doubt they would visit a completely weed-free, manicured, perfectly laid out garden. My nine year old son just planted his first garden this year. He has the advantage of having a butterfly gardener mom, so he pretty much knows which flowers attract butterflies, and what a host plant is. I took him to a 'generic' garden dept (Lowe's) and let him pick out six-packs of flowers, and some seeds. Many of the annuals sold in garden centers are perfect for a kids garden, add instant gratification, and are easy to plant and grow. Here is a list of great annuals and perennials for kids that most garden centers will carry:
| | |
| --- | --- |
| NECTAR PLANTS | HOST PLANTS |
| MARIGOLD | PARSLEY |
| RED SALVIA | DILL |
| BLUE SALVIA | FENNEL |
| DIANTHIS | CABBAGE |
| ZENNIA | MILKWEED |
| PANSIES | PASSIONVINE |
| PORTULACA | |
| ALYSSUM | |
| GAZANIA | |
| SHASTA DAISIES | |
| AGERATUM | |
| PURPLE CONEFLOWER | |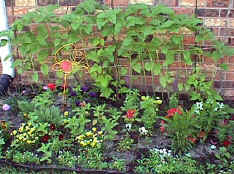 EASY TO GROW SEEDS
| | |
| --- | --- |
| | MILKWEED - Refrigerate seed for a month, then sprinkle on ground and scratch in. |
| | SUNFLOWERS - Large seeds, easy for the kids to plant |
| | ALYSSUM - Couldn't be easier; sprinkle on the ground and water |
| | BLACK-EYE SUSAN - Like Alyssum, sprinkle and water |
| | BEANS - Large enough for kids to handle; we used Lima and Scarlet Runner beans |
| | ZINNIA - Sprinkle on the ground and water |
| | |
| --- | --- |
| | AGERATUM - Sprinkle on the ground and water |
See how to grow a butterfly garden, for help on getting started. You'll need a sunny place, a wind break would be ideal too. Dig out the sod, weeds, and roots first. Work in manure and compost - it's OK to help the kids with this part - it's WORK!!! Always start any garden with good soil, it's easier to fix it now than AFTER planting.
I've put together a few 'sample' gardens for you to see. This will give you an idea of how to lay out your garden, and see a few easy to grow plants.
Once soil is fixed, go shopping, let the kids pick their flowers. I like one - six or nine pack of everything (lots of color!). Don't forget the seed packs! Next, get them their own garden gloves and tools - they come in kids sizes now. It's ok to help (great family time project) but resist the urge to take over, make it perfect, or boss the kids around in THEIR garden.
---