Pentas; Egyptian Star-cluster
Pentas lanceolata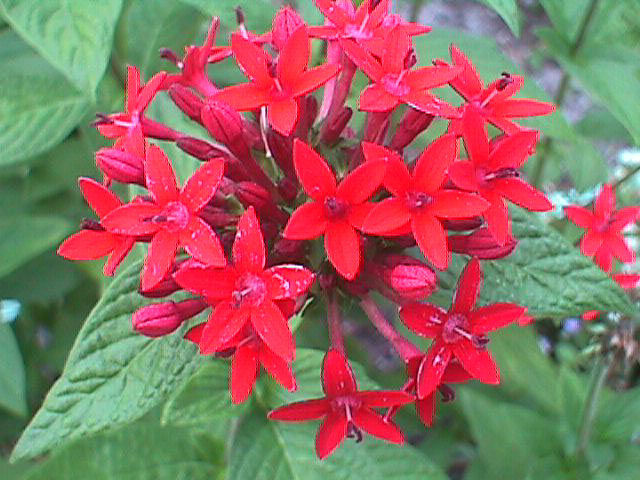 Pentas
Perennial, usually grown as an annual. Pentas is a bushy rounded evergreen shrub with hairy, bright green leaves and dense clusters of many small, star-shaped, tubular flowers, in shades of red, pink, purple, or white. Flowers continuously from spring to autumn. The red seems to be the favorite of the butterflies (mine too!). It's great in hot summer climates, and thrives in the baking sun in my garden. Grows to about 4' tall and 1.5' wide. Flowering is best when night temperatures stay above 70 degrees F.
---
Culture
Light: Full sun/filtered shade
Propagation: Seeds in spring, or cuttings in summer.
Soil and Fertility: Deeply cultivated, fertile, well-drained soil. Needs regular watering while in growth, and less at other times. Provide excellent drainage.
Hardiness: Zone 9-11
---
Pentas is one of my favorite plants in the garden. I consider it the 'anchor' of my butterfly garden. I've planted 2, and designed the rest of the garden around them.
This is a good container plant that you can bring indoors in winter. I've had one of mine for 3 years now. This is it's first year for it to fiend for itself in the ground, and it's doing great.
They do attract hornworms, but they don't do too much damage to a large Pentas. They will eat the leaves, stems, and flowers though. The nectar is sought after by many varieties of butterflies, along with bumblebees and hummingbirds. The Palamedes Swallowtail seems to prefer this plant over all other nectar plants in my garden.

Back to the garden